Well, its official – the AdvoCare 24-Day Challenge is over! Whew! How did we all do?!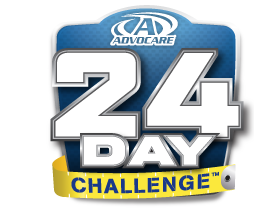 Here are my thoughts of my experience:
Overall, I am so glad I did it! I mentioned this earlier in the challenge, but I was amazed to see just how far off my typical diet had strayed after having Henry. Convenience, exhaustion, and comfort swooped in and washed away all evidence of the pragmatic sensibility I'd had when it came to nutrition. Of course, that's completely normal for the first few months after birth; however, my newly adopted habits were quickly becoming my norm. So much so that I didn't even recognize that I could easily be making much better choices.
Nutrition
First, what I really appreciated about AdvoCare's Challenge is that you can eat…a lot. It's not a liquid only diet; it doesn't rely on fasting…just nutritionally sound choices. Therefore, I never felt like I was suffering through the process. Overall, the Challenge forced me to overhaul my diet and tweak the areas that I was failing. But what I loved most about the whole process was that it rejuvenated my creativity in the kitchen. I love to cook and bake, but I had lost a real interest in doing either. Our dinners were extremely predictable and monotonous. But without the quick meals I had to fall back on, I was forced to actually think ahead about what I was going to make. I loved trying to come up with new, healthy options for Ryan and me and plan to continue that even after the challenge. I truly am so grateful that I chose this challenge simply because it invigorated my love for clean eating and reminded me just how great my body felt when I avoided foods that silently wreck havoc on your GI system.
Supplements
Because I am still nursing Henry, I was on a modified version of the Challenge. Therefore, I can't personally speak on some of the products that aren't approved for nursing or pregnant mothers (i.e. Herbal Cleanse and MNS). That being said, the product I was able to use I really liked!
Call me crazy, but I honestly enjoyed the Fiber Drink!
It was a part of my day I looked forward to – partially because it was a jump start reminder of the journey that I was on, but also because I didn't think it tasted half bad. For anyone considering the cleanse, I would definitely suggest the Peaches & Cream flavor. I personally mixed it with 12oz of water instead of the recommended 8oz. I felt it helped with the consistency and made it easier to consume. I actually plan to order this as a stand-alone product every now and then to help boost the amount of fiber I take in.
I also took the Probiotic, Omegaplex, and Coreplex (multivitamin). All of which I had no problems with. I plan on continuing with those since I have leftovers.
My personal favorite: Spark.
(You can get it in packets or a canister)
This is definitely AdvoCare's most well known stand-alone product and it is awesome. It provides a long-lasting energy boost to your system. Basically, it clears the mind of cobwebs without giving you that jittery feeling you experience with many energy drinks. I take 2 servings a day and it provides the extra boost I need to keep up with my wild child – especially on days following a long night full of wake-ups. I absolutely consider this a regular staple product in our household for the future.
The Results
This is the part everyone cares about, right?
I lost 4.5 lbs and 3 inches in the 10-Day Cleanse phase, which already put me at my goal weight!
For the nursing mother, the max phase really isn't much different than the cleanse phase, except that you no longer take the fiber drink. Because of that in addition to the fact that I had reached my weight and that I didn't want to adversely affect my milk supply, I decided to switch over to "maintenance" mode for the max phase. I still followed the diet plan pretty strictly, but I wasn't stressing over it.
Even with loosening up my diet somewhat, I still lost an additional pound and 3 inches! That's a total of 5 pounds (or 3.5% body weight) and 5.75″. I was also physically active 6-7 days/week throughout the challenge and feel that I probably also increased my muscle mass while decreasing fat mass.
SIDE NOTE: Personally, I prefer to focus on weight loss as a percent of initial body weight over absolute numbers. (Ideally, you want to look at % fat loss, but that's a bit more complicated.) This is because 5 or 10 pounds could be a small or substantial amount depending on your initial size. (E.g. a 120lb woman would only need to lose 12lbs to decrease their body mass by 10% compared to 30lbs for a 300lb man. That's a big difference in number for the same outcome!) Therefore, comparing absolute values with others can sometimes be discouraging so please keep this in mind on your own journey. Every step should be an important one to you, no matter the amount!
Would I do it again?
Absolutely! I reached my initial goal and it was a great opportunity to hit the refresh button. Yes, cleaning up my diet probably played a big role in my results; however, would I really have taken that big step and truly dedicated myself if I hadn't put down some money behind it??? I am especially interested in completing a full challenge in the future once I've completely weened Henry. If I had such great results doing only a modification of the Challenge, I can't wait to see what I could accomplish if I go all in!
If you are interested in any of the products I've discussed above or would like more information on the Challenge, please leave a comment or contact me! You can also visit the official site. I would also love to help you reach your own personal goals.